Book Review: Indira
Second is "Indira: The Life of Indira Nehru Ghandi" by Katherine Frank. Indira Ghandi was the prime minister of India from the 1960s and 1980s. She is the daughter of India's first PM, Nehru, and was raised in part by Mahatma Gandhi. Confusingly, however, she married a completely unrelated Feroze Gandhi who granted her that famous last name. This is a monster of a book at over 500 pages, copiously annotated and extremely detailed.
Young Indira beside Mahatma Gandhi, who is fasting.
The most striking thing I found reading the book was how weak and non-existent Indira seems in her youth and early adulthood. She is unendingly ill with pulmonary diseases, painfully thin, does poorly at school, and floats around Europe and India with her family (she attended the world's first international school, l'Ecole Internationale, in Switzerland for League of Nations brats). She has no normal childhood or youth as the whole Nehru family is deeply involved in the Indian independence movement. They all periodically have to face jail time (a veritable rite-of-passage) for their activities, which the British government calls seditious.
She marries an ambitious, hot-headed and energetic Feroze Gandhi in 1942 despite the misgivings of her father Nehru. Though they were sincerely in love and they produced two sons, the marriage proved a miserable one. Indira was more committed to her father's political work (who becomes PM of independent India) than her husband (who quickly begins having a number of a more-or-less open affairs). I was struck by how Indira lives for others, she has no independent personality, not until in 1959, at age *fourty-two*, she deems that she has repaid her debt to her family and must live her own life. Tragically good timing, because both her husband Feroze and her father Nehru would die within the next few years.
Then Indira comes into her own, she drifts into the prime ministership in 1966 as the previous once dies. She quickly personalises politics massively: she avoids the party organization her father had created and appeals directly to the people with populist programs such as bank nationalizations and removal of aristocratic privileges. She is massively re-elected in 1967 despite a vast coalition against her running on the motto "Remove Indira". She skillfully responded with the motto "Remove Poverty". As the situation in Bangladesh (then a part of Pakistan, though 1,200 km away) degenerated into genocide as the the West Pakistani military elite reasserted its rule in the country in 1971, Indira acted decisively to attract international attention. She eventually fought a brief 2 week war, short and successful, to liberate the country. She became massively popular earning the title "Empress of India".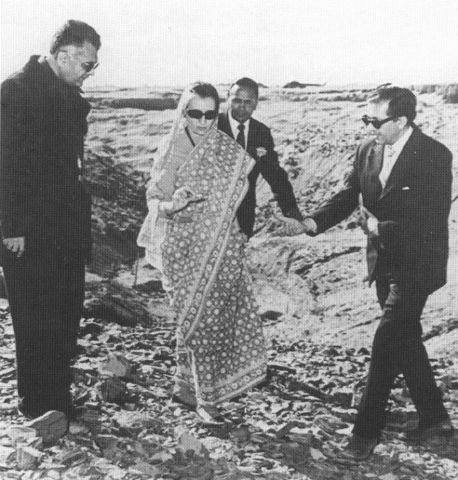 Indira near the "Smiling Buddha" blast site.
Though she governed over other successes, the investments of the "Green Revolution" to make India's food supply self-sufficient were finally paying off and India exploded its first atom bomb ("Smiling Buddha"), she did not fulfill her promises on poverty. By the mid-70s inflation was rising, strikes were paralyzing the economy and an anti-Indira coalition was making strong headway calling for her extra-constitutional overthrow. Indira had already eroded much of India's democracy, weakening the constitution, politicizing the judiciary and bureaucracy, and circumventing political parties. In response she declared "the Emergency", effectively making herself dictator, censuring the press, imprisoning thousands of opponents and postponing elections... but trains ran on time and inflation fell. Indira grew increasingly isolated, relying on her corrupt and ambitious son Sanjay whose political influence grew. She eventually relented, holding elections in 1977 and losing badly.
Indira, her son Sanjay and their cronies then had to face 3 years of vengeful and badly organized trials on their misdeeds during the Emergency. They emerged basically unscathed, the very unpopular Sanjay died in 1980 just before the elections in an airplane crash which, though it devastated Indira, placed her in a perfect position to win those elections (the sympathy vote counts). Indira seems pretty aimless during her final term, unable to handle the communal violence affecting Muslims, Hindus, Sikhs and Harijans (also called Dalits or Untouchables, the lowest of Hindu castes), especially in Kashmir and the Sikh-populated Punjab.
Time magazine upon her assassination in 1984.
In 1984 as a Sikh terrorist group had been rampaging across Punjab from their base in the Golden Temple (the holiest of Sikh holy places), she launched a military operation to retake the temple and kill the terrorists. She succeeded, with massive civilian casualties and the temple heavily desecrated. Sikhs around the country were enraged and, a month later, two of her own Sikh bodyguards shot some 30 bullets into her body at point blank range. Her other son, Ranjiv, became the new prime minister. Over the 3 days after Indira's death, some 3,000 Sikhs were killed, tens of thousands more expelled from their neighborhoods, in anti-Sikh pogroms throughout India.
Overall Indira comes across as a fairly unimpressive leader. She seems to have been very lucky to have been Nehru's daughter, not had terribly coherent ideas politically and been very dangerous to India's democratic politics. However, she had the ability to really connect with the common Indian and like de Gaulle, another leader with extra-constitutional and authoritarian tendencies, ultimately favored a return to democracy and could not govern without the approval of "the nation".
In the book, Indira and her family appear very flawed but touchingly human, especially as a youth: they have petty disputes and feuds, she reads voraciously, complains of at the size of her nose and the darkness of her skin, she has few friends and her life is distinctly unordered. One word of warning she spoke to a son I thought particularly poignant: "There are millions of people in the world but most of them just drift along, afraid of death, and even more afraid of life."