Sacrifice All Unto the Big Green Blob
There should be an intelligent debate on US policy in Iraq. However, the current debate is so infantile it is insulting. Author Frank Gaffney went on the Washington Journal today arguing that anyone proposing a timetable for withdrawal or redeployment was a "defeatist". He proposed massive escalation, sacrifice and perhaps a draft.
While claiming that "defeatists" are that way because they don't understand "the character and complexity of this war", his explanation of it was the typical ignorantly American conception of "World War" as a clash of ideologies. He equated loss in Iraq with that of "the free world" because Islamo-fascists would "use that as the launching pad to create the Caliphate… from which they will then mount the effort to expand their global domination, truly around the world, including even places like the United States."
A woman with a southern drawl called in saying that "In Iraq, ya'll should just give it up."
Mr Gaffney serendipitously replied that "People were trying to kill us before we went into Iraq. In fact they killed 3000 of us on 9/11."
Lets be clear, I am not saying that "Islamo-fascists" don't exist. I am not saying there are not people out there trying to destroy the West. I am saying if they take over Iraq it's not going to mean another goddamn World War or Cold War… it's not going to be some big green blob on the map spreading over the whole world.
He wants you to believe this is going to happen: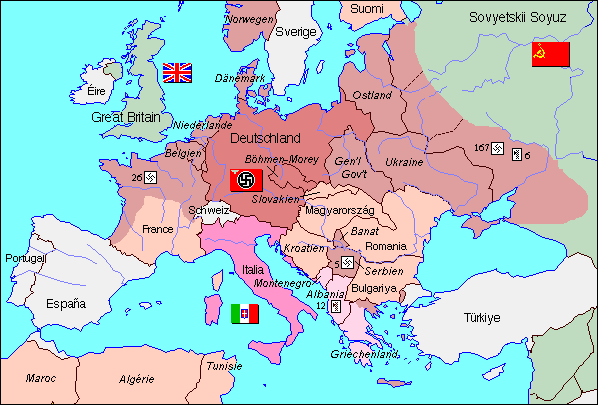 or this:
These neo-domino theorists (this man, Rummy, generals) are either completely ignorant or totally dishonest. People forget there were enormous divisions in the Communist world (USSR/China/Romania/Yugoslavia/Vietnam). Unity in eastern Europe was only possible because the Red Army was there to make sure. How the hell do you expect possible fundamentalist governments, representing different nations and sects, to be really united? Fundamentalist Iran and the Taliban hated each other. Even when Syria and Iraq were BOTH ruled by Ba'ath parties with the SAME ideology, these two countries remained mortal enemies.
What are these "Islamo-fascists" going to do after taking over a flattened Iraq? Make some half-assed army and try to go after Kuwait or Saudi Arabia and get their ass whooped a la Gulf War I? Perhaps attack Godless Socialist Syria? Maybe try another Iran-Iraq War to take out the theocratic Shia "pigs"?
Be afraid, very afraid, give your taxes and sons and daughters unto the Big Green Blob.