Chad in the News
I've been doing a lot of work on my dissertation this summer, much of which focuses on Chad. Chad? Yes, Chad, it's a country over 3 times the size of California of 10 million people (doubled in the past 25 years) right smack in the middle of Africa. The northern half of the country is empty desert, "useless Chad", while the South "useful Chad" survives by subsistence farming.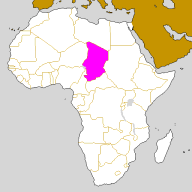 Chad doesn't usually get more than passing attention. During WW2 the French colony was prominent for being the largest part of France's empire to stay in the fight. During the 80s Libya fought a war there which eventually led to Chad kicking Qaddafi out killing 5 000 Libyan troops in the process (imagine if the US lost the equivalent of 75 000 troops over 7 months in Iraq...). Chad's been getting attention over the conflict in Darfur spilling over into the country.
Chad, who historically had a national budget smaller than the movie Titanic's, is getting her oil industry setup. Chadian President Idriss Déby has kicked out oil firms ChevronTexaco and Petronas claiming they didn't pay their taxes. This leaves only ExxonMobil and effectively nationalizes (Chavez-style? more like Bolivia...) 60% of Chad's oil production. I think he didn't like the World Bank's rather draconian rules for using the little of the oil profits which would go to Chad primarily on poverty-relief/infrastructure etc. Instead, Déby now can control all profits and spend it as he pleases. If other 3rd world petro-states are any indication, he will use it to solidify his clique's rule, buy arms, make
the odd monument to his glory
and fill Swiss bank accounts.
Who knows, he might invest enough in education and infrastructure to make Chad's economy viable, but I doubt it. If I were to make a suggestion, I would use some money to upgrade the
official website of the govt-owned telecom company
(Telecommunications Internationales du Tchad, or Tit). The
presidential page
, none of the links work and it's garrishly worthy of of an
UglyMySpaceShowDown
.
Chadian identity is pretty artifical, or at least, recent. It's just a big square in the middle of the desert named after a shallow lake it shares with several other countries. A square shared by Muslims, Christians and Animists with about a zillion languages. I recently found
a site designed for young Chadians
(who, if they have an internet connection, must be fairly wealthy or maybe even cosmopolitan American-schoolers) dedicated to Chadian athletes, rappers and general culture. The site puts a lot of stress on
a certain Miss Chad 2005
who
was until recently
going to contend for Miss World 2006 (the page also has entries for a blind guitarist, Chadian international reporter and the N'djamena town crier). They've yet to update the site :-/
The page has text saying that Chad now competes alongside traditional African fashion-leaders Angola, Ethiopia, Cote d'Ivoire and Nigeria... "The barrier is now broken!" This was going to be an opportunity to assert a little Chadian pride and identity in the world.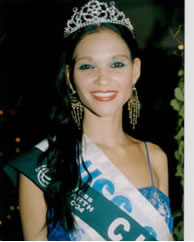 Now, I'm not saying the lovely Miss Aché Myriam Commelin isn't pretty. But where the heck is she from (one of the photos as "MabuhayBeauties.com" written on it... perhaps she is part-filipino?) Now, it's worth noting that there is a substantial Arab minority in Chad, but ethnic labels are always very parochial and like in Sudan, it's not what Westerners usually have in mind when using the word "Arab":
Chadian Arab boy
I googled "Chadians" to which google replied "Did you mean Canadians?" (I could see how you could confuse the two vast wastelands...) and got
this
. I tried again with "Tchad fille" and got:
(Cool page "
Faces of Chad
" with lots of photos)
If you're going to trump up a representative of your country abroad to young people as an example, especially in a competition based completely on esthetics, it'd help if she were actually representative.
Chad's got a long way to go. At the current population growth rate (currently 3% per year), a 15 year oil-cushion for the elite will not mean any real change.